Thursday Feb. 14, 2013
Today was our day for another road trip.  This time Eric and I decided to travel with Frank and Sandi in the jeep as Dennis and Marilyn were taking their truck so Marilyn's brother Wally and wife Marilyn could come.  As Big Red has been in sick bay most of the winter we just decided to leave him there especially since this trip was going to involve dirt and or gravel roads which is not an option on a Harley. 
So of we set at 10:3o in the morning.  A quick stop at the Pemex just before the turn off to San Ignacio to see if we could determine if the restaurant in Barra de Piaxtla was even open.  Last year we had talked to a Mexican from San Javier who spoke good English and we hoped he would be working.   We managed to determine that the restaurant in Piaxtla was open (or so they thought) and also that the other restaurant in San Javier (El Tirito) where we ate last year was also open.  Now which destination should we pick.  Well since we'd never been to Piaxtla and it was on the ocean that's the way we decided to go. 
We turned west towards Estacion Dimas just north of the turn off to San Javier and San Ignacio and from there we would head farther southwest to Barra de Piaxtla on the beach.
Eric and I had been into Estacion Dimas last year on the bike and found it quite interesting.  See blog: March 22, 2012 for pictures and information. 
The trip on the free road towards the Maxipista and Estacion Dimas is rural and not all that pretty as the terrain is quite scrubby and dry at this time of year.  We did see bits of agriculture along the way but not a real scenic drive. 
When we arrived in Dimas it was time to turn off on a dirt/gravel road to Piaxtla.
Dusty in the jeep but since we are from rural northern British Columbia it is something we are used to.  Our driveway is gravel and our house is about 1/2 mile off a paved highway so ….no big deal.  However….the jeep got dusty and so did we! 
Now I might mention that Frank had emailed the restaurant we wanted to eat at as they had a very impressive website but we did not get a reply.  Since I am not going to be very positive about this experience I won't include the website. 
When we arrived on the beach at the La Rosa restaurant it said it was open but….you guessed it….not today.  Ah Mexico!  Run by ladies from Washington who do mosaics and rent accommodations for tourists.  Well…all we wanted was lunch but it was not to be.  They did have food but she was serving it to her family and said she was closed since she'd been busy over Carnaval and her cook didn't show up.  She was however happy to show us all the places we could rent if we wanted to come back.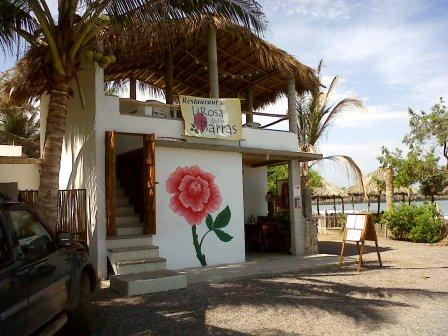 Looking north to the lighthouse.
Another beach….that Eric would like to swim at.
At this point we are all pretty cheery…but we don't know we aren't going to get fed.  I know it's not like we are going to starve…especially after Boomer's birthday dinner last night.
Everyone has a walk on the beach.
A close up of the light house. 
I think that might be the blogger in the mirror!
Very nice mosaic work in the little units that were for rent.
By this time we were hungry and the restaurant owner suggested a truck stop restaurant back close to Estacion Dimas on the toll road or a restaurant on the way out of Dimas.  Back we go through town and along the dusty road. 
Always a cow or two along the way. 
We were told to turn right at the chicken farm and there you would have a restaurant and that is what we found.  Trucks were stopped there, it was actually open and looked pretty nice.  At this point the wind was blowing pretty hard and we were all a bit cold and definitely hungry!  We sat down at a table for eight and then the fun began. 
They had no English (fair enough as it is Mexico) and our Spanish is not great but ordering a meal is usually not a huge issue….except for today.   They didn't have beer…okay how about Cocoa Cola lite…nope…okay what do you have…Jaimaica ( a tasty hibiscus flower drink) okay…good we'll have that and how about Cocoa Cola ….yes….how about orange juice ….maybe!  Water….well …we can't understand it when you say " agua " or water in Spanish.  And now for the food.  I asked if they had an "Especial"  Si…pescado (fish) so I say empanizado (breaded) Si….okay we'll all have that!  The drinks took forever and the meals a hugely long time….but we did get fed.  Then the bill…"could you not be cranky and just tell us what each couple owes" or just write it down..or something!  Okay it was a bad experience but to be fair…everyone has a bad day and I guess it was this restaurants bad day!  The only time we've had this happen in Mexico.  I guess Wally and Marilyn will have a story to tell when they get home to Canada. 
Time to carry on. 
We are now right on the Maxipista (toll road) and wanted to go to the petro glyphs at Las Labradas about five miles south.  The owner of the first restaurant had told Frank approximately where to turn and it was a good thing as there was no signage.  I include a link (the best I could find) to explain what was there. 
http://suite101.com/article/petroglyphs-at-playa-las-labradas-near-mazatlan-a141266
When we arrived at the end of another dusty road…we found the entrance to the petro glyph beach and museum.  At this point Sinaloa is in the process of constructing new buildings (very nice) which will make a very nice tourist destination when it is finished.  Hopefully they will also put a sign out on the highway so you can actually see where to turn off.  Coming north from Mazatlan you have to get into a retourno and cross the highway with traffic whizzing by at 110km so it requires some caution!  
Down the dusty road to Las Labradas.
Signing the guest book in the new building. 
They are creating a really nice new facility.  
A couple of petro glyphs right at the beginning of the walkway to the beach.
As we started to head down the path to the beach we saw the little open air museum with information and a few petro glyphs so we stopped for a quick look. 
And now for the beach…..
First Sandi…and then
here comes Dennis and Eric.
Looking north up the beach back to Barra de Piaxtla and …
south towards Mazatlan.
Look at all those rocks!
If a rock had a petro glyph on it they had placed a marker stone so it was easy to find.
All very interesting and beautiful.  Another gorgeous beach that Eric would like to swim at!
Well…we are all tired by now and it's time to head home.
Back down the dusty road…..
under the railroad bridge….
and down the dusty road….again!
As we came out to the toll road I shot this picture.  The impossible to read sign on the road at the right says" Las Labradas" and you can't read it. 
Down the "not dusty toll road home" to Mazatlan….but we did have to pay 100 peso's to use it. 
A very….dare I say….interesting day!